April Fools responses drawn by d3dans, written by Zach Sharpe!
---
With all the Sun praising you partake in, do you use some magnificent sunscreen lotion to keep your skin perfect?

"Sunscreen!? What sort of heathen would dare use such a thing? I need only the golden rays of sunlight to maintain my complexion!"
---
If there were two guys on the moon and one killed the other with a rock would that be f***ed up or what


"Uh, ahem, yes. Th-that would be most assuredly 'effed up'."
---
Who's your favorite knight in Lordran?
"Um, well, I think that would be Sir Hawkeye Gough. He's quite mild-mannered and is an excellent listener; one time he even offered my head an affectionate pat! Me! A mere Warrior of Sunlight! Though hands his size tend to generate quite a lot of static electricity." 
---
What's the most uncomfortable experience you've had when co-oping with a fellow Warrior of Sunlight?
---
Are you aware that the sun will die in a time span that short relative to the actual life span of existence?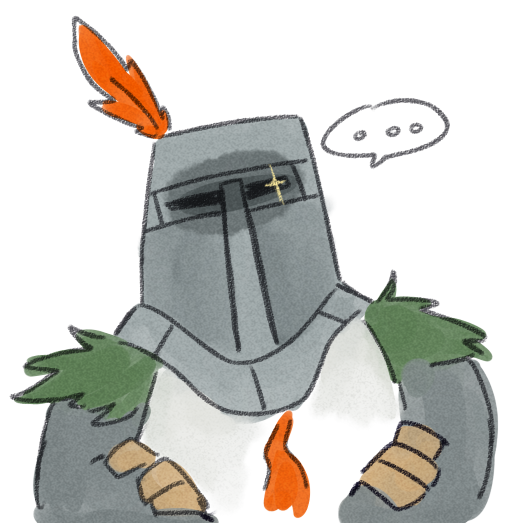 "I don't know whatever puny sun your world rotates around but my sun is invincible."
---
What's the green cape made out of? Grass? Feathers? A really worn out green carpet? I can't just keep drawing a mystery green thing, it's tearing me apart.

"The tag at the store said astroturf."
---
Solaire, one time you and I were keeping it real, fighting O&S, and Smough's hammer literally hit you so hard you clipped through the floor, but didn't die
Where did you end up?

"I found myself trapped in a tiny space only this big. It was very dark, with nary a sunbeam in sight.
Death would have been easier."
---
Mistah Solaire, where did that feather in your helm come from? :O

"I was sight-seeing in a lovely city overseas, and happened upon a gentleman with the finest hat I've ever seen! I simply could not help myself…"
---
Sir Solaire, is it true you met an undead who was interested in a relationship with you?

"Hmm, well there was one undead warrior I've met in my travels I had taken something of a liking to, and-
Bah, there's simply no chance they would ever feel the same!"